Best Thai Food in San Francisco-King Khao
Sign up for the food/startup blog to get more recommendations.
My husband and I went to our favorite place. Kin Khao. This is not Thai for beginners. If you have fish sauce this is your place. Order the laab kua, yaowaraj noodle noodles, crackling pork skins, and nam tok beans, thai tea. You'll love it!
Location: 55 Cyril Magnin St, San Francisco, CA 94102
Thai food is known for its delicious and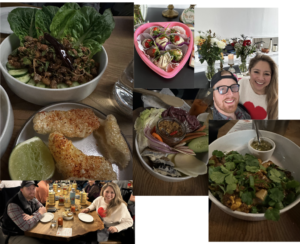 complex flavors, which are created by blending a range of ingredients such as herbs, spices, and sauces. Thai cuisine is heavily influenced by its neighboring countries, including China, India, and Malaysia, resulting in a fusion of tastes and textures. Popular Thai dishes thai tea, mango sticky rice, chicken and rice, and noodles. Thai food also emphasizes the use of fresh ingredients such as lemongrass, galangal, and kaffir lime leaves to add a vibrant and refreshing flavor to the dishes. Overall, Thai food offers a unique and mouth-watering culinary experience that is loved by people all around the world.
Fun Facts about Thailand
Thailand is home to the world's largest gold Buddha statue, located at the Wat Traimit temple in Bangkok. The statue stands 10 feet tall and weighs over 5 tons.
The Thai New Year, known as Songkran, is celebrated every year from April 13-15 with a massive water fight in the streets of cities and towns throughout the country.
Thailand is the world's largest exporter of orchids, with over 1,500 different orchid species grown in the country.
Thailand is famous for its floating markets, where vendors sell their goods from boats on the canals. One of the most popular floating markets is Damnoen Saduak, located about 100 km southwest of Bangkok.
Sign up for the food/startup blog to get more recommendations.